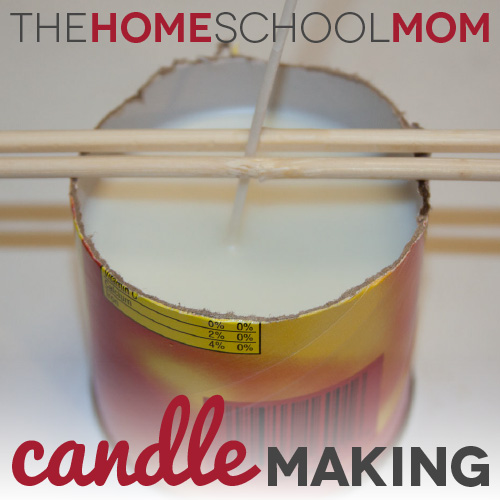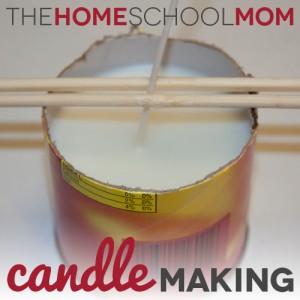 Longer hours of darkness are settling in on our part of the world with the fall season, and we could use a little extra flicker of light.
Candle making is the perfect autumn craft. The process is creative and rewarding, and the candles you and your kids make together are an autumn antidote to the days' low angled sunlight and early arriving nights.
If I have a deficit as a homeschooling mom, it's that I'm not very crafty, and I don't enjoy or excel at handwork. However, making candles with my sons was one of our more successful craft endeavors, so I'm sure you can do it.
First I'll give you a general caution -- the kind of candle making we did used hot melted wax, and you need to be careful so little ones don't get burned and you don't set a fire on your stove. Use the double boiler method that's recommended for melting wax and keep the adult supervision turned up.
You can buy candle-making supplies at craft stores like Michael's. The main two specialty items you'll need are wax and wicks, though you can also add fragrance and color. However, as an alternative you can also melt old stubby candles you have on hand and use that wax for your new candles. If you use uncolored wax, you can melt crayons and add them to the clear or white wax to add color. Peeling the labels off broken crayons can keep pre-schooler hands busy for quite a while, since they're usually forbidden to remove crayon labels.
We made two basic types of melted wax candles.  For one type, we used empty containers that we poured the wax in, and the candles remained in the glass jars as they burned. An example of this is making candles in jelly jars or juice glasses picked up at yard sales.
For the other type, we used temporary containers as molds, which were torn away from the candle after the wax hardened. An example of this was pouring wax into a pint size milk carton, and then stripping away the cardboard of the carton after the wax cooled. My kids had the most fun with these, finding and designing suitable molds.
We experimented with adding shells, leaves, sparkles, and other decorations to our candle creations.
A fun trick is putting ice cubes in the container before pouring the hot wax in. The wax hardens around the cubes, and then you drain the water off after the ice cubes melt. The result is a candle with an interesting pattern of holes where the ice cubes displaced the wax.
A basic step by step guide to making candles in containers is here. A guide for making candles with molds made from household items is here.
Of course, the children love the moment they get to light the candles after making them, and they are thrilled to place their candles in the center of the dinner table.
Your children may also enjoy making candles as holiday gifts for grandparents and other relatives.
Making candles is an enjoyable, contemplative process that results in charming and artistic little lights for the crisp nights ahead.