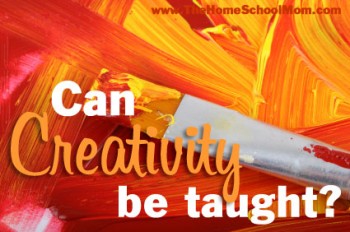 This post is contributed by Oak Meadow, the sponsor of our Living Education series.
Is creativity something you are born with (or not)? Can a student be taught artistic expression?
For thirty years I have been asking these questions, and more: What is the best method for teaching art? Should art only be taught in art classes? Should art classes be discipline-based, process-based, or choice-based? Do certain ages and stages of aesthetic development correspond particularly well with one form of self-expression or another?
I have embraced the search for these answers since I first knew that I wanted to be an artist and work with others at making art. While I was a homeschooling parent using Oak Meadow to teach three of my five children, I searched for the best responses to these questions. Now, as an art teacher for Oak Meadow's high school and as a college professor who teaches others to become art teachers, I continue this quest for understanding how to support creative expression in students.
Give every student a chance to make art
My own artistic practice consists of layers of untold stories both within myself and within the landscape. I am a painter, a story maker with collages, and an interdisciplinary artist who finds meaning in the context of place and community. Encouraging creative expression is my passion because I believe art enhances the lives of every person it touches. I am a firm believer in giving every student a chance to make art. But that looks different in each grade. Young children need opportunities for sensory experiences and open-ended artistic expression that helps them release energy through shapes, colors, forms that may have random, non-recognizable elements. Yet the expansive learning within these designs is monumental. It should not be about exactly how a tree looks at age seven or eight or nine but about how the student sees the tree and how it is interpreted in the painting.
Does freedom of expression and attention to detail change when the student reaches middle school? Absolutely. Students at that early adolescent age will tell you that they want the tree to look perfect and, in fact, if it does not look perfect, it causes great frustration in the student. Complaining, outbursts, and refusals to participate in art are not uncommon. This stage can make or break a positive attitude about art that can last a lifetime.
I hear from many high school students who tell me they are not "good" at making art. In earlier years in school they received this message, sometimes not so subtly, in feedback and low grades that indicated artistic expression was just not present in this child. It is at this threshold—when all hope of ever being able to feel good about art is abandoned—that I feel I do my best work as artist, teacher, and mentor.
Make time and space for art to unfold
This population of anxious, frustrated students, who often struggle with self-esteem and identity issues, is the group that NEEDS encouragement to make more art and to be more creative in their lives. What's more, their school curriculum should support their artistic development. Sadly, not only may the student receive negative messages on artistic performance, but he or she also has LESS time available in the daily schedule to relax and make art. Yes, relax! Art needs time and space to unfold. Yet relaxing is as foreign to today's traditional school day as are bookstraps and mimeographed handouts. Instead, the academic rigor of today means that students are consumed with writing standards, comprehension questions, scientific theories, mathematical scaffolding, and the constant need to prove that learning is taking place. The arts, in general, are usually left behind, much as the appreciation of nature and physical exercise have been, relegated to those gaps in the day that might appear at random times ("If you finish your test early, you can draw").
But, just as art instruction is undernourished and underappreciated in most schools today, so is creative expression. Remember your kindergartner and all the wild paintings, perhaps done with hands and feet, that were hung on the kitchen walls? It's easy to remember the joy with which art was created at that time! When the thirteen year old came home and explained that drawing a self-portrait was impossible, what did you say? How can you counteract the negative self-image that builds around art when the student can no longer make the drawing look like it is "supposed" to?
Re-assure and re-awaken the creative spirit within each child
In all of my years teaching my children and my art students, I always looked upon each one as a beautiful mind and potential Pablo Picasso and Georgia O'Keefe. I always tried to re-assure and re-awaken the creative spirit within each one. As I see it, it is not about that perfect tree or a self-portrait that looks like the face in the mirror, but instead it is about asking questions, stretching the boundaries of the assignment, asking more questions, selecting colors that were not required and possibly, yes, frankly, NOT following the directions.
The students who look upon their art with wonderment are the ones who will flourish. They are the ones who inquire, "How can I make my tree look like one I never painted before?" or, "How can my drawing, while not looking exactly like I expected, be the best drawing I have attempted?" Part of the learning process is to catch them in that magical moment, when they are open to art as an exploration, and help each one understand that he or she does have what it takes to ask those questions about their artwork. And these students will excel not just in the art studio. In Drawing on the Right Side of the Brain, author and artist Betty Edwards explained that in using the right hemisphere of the brain, which "reads" the whole picture and is less concerned with replicating a drawing in a clear representational manner, students will benefit from a well-rounded holistic learning experience. Having given themselves time to relax into the artistic process, these students learn to think outside the box in other areas of life and learning as well.
Creativity is fluid. It must be nurtured. The incubation stage of creative thinking is essential. Walking away from the academic rigor and giving the student a chance to create using colors in a non-representational manner will later allow the student to return to math and science and other subjects with a renewed sense of energy and enthusiasm.
The creative process is not linear. There are no correct answers. However, there is a language and there are choices and in some forms of art-making, there are learned ways of discovering the early stages of a process, such as in pottery or glass work. Once those stages are understood, true creative expression can occur.
Mentor, don't teach
In my work with students at Oak Meadow and elsewhere, it is less about "teaching" than it is about "mentoring." There are no right or wrong drawings. Some drawings could be seen from a different perspective or students can be encouraged to use a new technique or maybe slow down a rushed drawing, but never has a student failed my art classes for trying.
Elliot Eisner, an arts advocate and arts educator, compiled a list of Ten Lessons That The Arts Teach. While Eisner's entire list is important, the second statement is particularly relevant: The arts teach children that problems can have more than one solution and that questions can have more than one answer.
In my work as teacher, mentor and visual artist, I hope to help my students ask questions about their art, to embrace their own creative process, and to believe in their potential. I want every student, in particular those who think that painting with feet only belongs in kindergarten, to re-examine what creative expression truly means. By seeing the beauty that lies in lines and shapes, colors and design, everyone can learn to enhance their creativity and explore what they are truly capable of creating in their lives.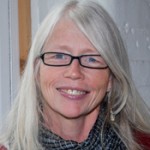 Patricia Younce, M.A., M.S.W.
Patty earned her undergraduate degree in Fine Arts from College of Mount St. Joseph in Ohio, her Masters in Art Education from Rhode Island School of Design, and a Masters in Social Work from the University of Michigan at Ann Arbor. In 2010, she received her Masters of Fine Arts in painting and writing from Goddard College, where she is also a faculty member. Patty homeschooled her own children using the Oak Meadow curriculum and believes that any learning should integrate the arts as a form of self expression. She enjoys guiding her art students through their own creative process so they can feel confident about their skills and knowledge. Patty lives in Stafford, Vermont in a farmhouse with her five children and two cats. Always busy, Patty makes time for her painting practice as well as her teaching and practice of yoga.