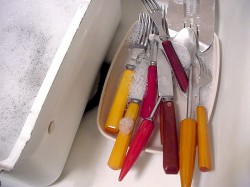 Let's face it – there's just too much to do and not enough time. Homeschoolers have the challenge of educating children while also maintaining a household; a household that children are actively (albeit creatively) working throughout the day to dismantle! Homeschoolers' houses are well used, and it can be overwhelming for Mom to try and manage the workload of cleaning, maintaining order, cooking, and keeping up with household tasks while also providing creative, interesting, effective lessons each day. Fortunately, Mom shouldn't do it all by herself! Teaching children to help take care of household responsibilities not only makes homeschooling doable; it provides them with skills and character they need for later success.
So why is it that we Moms often end up doing most of the work ourselves, all the while bemoaning the fact that the kids don't pitch in enough? Generally the reasons boil down to three main areas:
1) Philosophy – Some parents end up doing the bulk of the work in the family simply because they believe that "kids should be kids"; that the "work" of childhood is for kids to play and have fun. With this philosophy, parents take care of the majority of household responsibilities, believing that children will be healthier and happier by focusing on enjoyment during childhood and leaving responsibility for when children get older. The problem is that children do not learn responsibility unless they are taught, and, ultimately, kids feel better about themselves and do better in life when they are given responsibility.
From a very young age, children should be given responsibilities around the home, commensurate with their age and ability. Obviously, doing so helps to share the family workload. But even more importantly, children who are given responsibility, and helped to feel competent at fulfilling that responsibility, feel a sense of importance within the family system, and recognize that they are trusted and capable. It is not, contrary to popular understanding, telling children how wonderful they are which generates strong self-esteem. Self-confidence arises from children feeling loved, secure, and competent within their family structure; having regular household responsibilities helps children to feel needed and worthwhile.
Research from the University of Gothenburg supports this idea; researchers found that in contrast to popular psychological theories about self-esteem, "self-esteem is generally linked most strongly to people's perceived competence in areas that they consider to be important". For young children, whose worlds revolve around home and family, there is nothing more important than being needed within the family unit. Another study by the University of Minnesota investigated how variables such parenting styles, gender, types of household tasks, time spent on tasks, and attitudes and motivators connected to doing the tasks affected children's outcomes later in life. The researcher discovered that participation in household tasks when they were 3 or 4 years old was the best predictor of the children's success in their mid-20s.
2) Underestimation – Because children come into the world as infants for whom we must do everything, it can be challenging for parents to readjust their expectations of what children are able to accomplish as they mature. Many parents think "he's too young to do that", before actually investigating their child's capabilities. Part of raising responsible young adults involves parents gradually transferring responsibility to children as they grow. There should be an intentional and incremental movement from taking care of children to building responsibility in children, so that as kids gain greater freedom, they also gain greater responsibility. Children flourish when parents have high, yet reasonable, expectations, and then follow up to ensure that children are successful at fulfilling those expectations.
Even as young as age 2, children can learn to clean up after themselves when they play with toys. The younger the child, the smaller the "mess" she will be able to effectively straighten on her own; very young children may only be able to put away one item at a time. 3-year-olds are capable of putting their plates and cups into the dishwasher after eating, and 6-year-olds should be able to make their beds with reasonable success. As the child matures, begin providing him with additional responsibilities that move beyond personal clean-up into more corporate responsibilities, such as cleaning common areas of the house. For some ideas on reasonable chore expectations (as well as chore charts) for 6-year-olds, 8-year-olds, and 11-year-olds, visit choresandchecklists.com. Also check out theadventuresof bear.blogspot.com for one family's chore expectations for a 17-month-old and a 3 ½ year old.
3) Time and effort - It takes plenty of time and energy to help a child learn to take care of household tasks responsibly. Without a doubt, at the beginning it is a lot of work, on Mom's part, to get some help! Young children must be taught patiently and consistently how to do each part of their assigned task, and they need plenty of practice and reinforcement before they will be able to competently be able to dispatch their responsibilities effectively. Busy moms can easily feel like it takes too long to go through this training process; it's easier to "do it all myself". However, in the long run this puts the burden for household management squarely on Mom's shoulders, and can lead to entitled children who feel that their parents exist to serve them.
By setting aside regular training opportunities, parents can help children take on a meaningful role within the family structure, teach responsibility and servanthood, and lighten the workload all at the same time. Just as in the journey of home education, time and energy spent in teaching on the front end comes to fruition over the long term. A little training now will yield shared responsibility later! Check out the tips on teaching children to be responsible for chores at parenting-ed.org, or orgjunkie.com for some ideas and chore charts. Or visit thatresourcesite.com for a creative family project called "Climb the ladder to heaven" to help kids do chores with a positive attitude.
Moms need the help, kids benefit from helping…it's pretty much a "win/win". With a little time and effort in training children to be responsible, keeping reasonable yet high expectations of what kids can accomplish, and understanding the long-term benefits of giving kids responsibility as part of a meaningful role within the family, the household will run efficiently without Mom having to do it all. And, even better, the kids develop character, responsibility, and self-esteem. Learning, practicing, gaining skills within the home for later success  – sounds like homeschooling!
Check out my ideas on responsibilities to give to children at different ages!