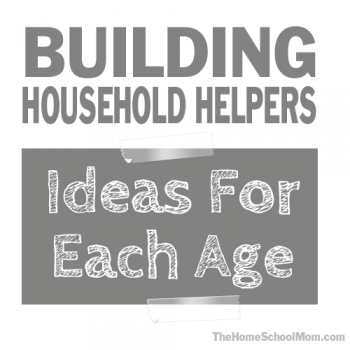 Mom doesn't have to do it all.
Homeschooling Moms, repeat this to yourselves three times. Because even though we may know it in our heads, often the reality in the home is that Mom ends up taking on more than her fair share of the household tasks. A previous article took a look at the reasons this occurs, and why it shouldn't be the case! But once we acknowledge that our children need to be given appropriate responsibility within the home, we've got to actually make it happen.
As children successfully take on age-appropriate tasks to support the family, they experience truly being needed. Self-esteem, responsibility, and a realistic awareness of individual capabilities grow as kids participate in a meaningful way in keeping the family going. So give your children responsibility within the household, and give them a sense of purpose. Oh, and make your own life easier at the same time.
Here are some ideas for chores and responsibilities children at different ages should be able to successfully complete; challenge your family to find ways to serve each other rather than be served! It is assumed, for each responsibility, that the parent has demonstrated how to perform each task, has provided time for the child to practice, and has given the child feedback/reinforcement.
Ages 1-2
Begin to pick up after self, with assistance (one toy at a time)
Put dirty clothes in the laundry hamper, with assistance (one item at a time)
Gather like items, such as shoes, and put them together, with assistance
Retrieve a book from the bookshelf for Mom or Dad to read
Put trash into the trash can
Ages 3-4
Clean up toys after self  (very large messes need assistance)
Put dirty clothes in the laundry hamper
Put away silverware from the dishwasher
Straighten room and put toys, clothes, projects, etc. away
Dust baseboards in a small area, after being shown how to do it
Bring in toys, trash, etc. from the car and throw or put away
Put dirty dishes in dishwasher after eating
Put wet laundry that Mom takes out of washer into dryer (with assistance)
Assist Mom in making food (pouring in items Mom measures, stirring)
Retrieve diapers, blankets, or other items Mom needs for younger siblings
Fill up a water bucket and water plants outside (with assistance)
Feed the dog or cat (if appropriate-sized measuring cup is provided)
Ages 5-6
Empty the dishwasher completely (as long as a stool is provided for high cupboards)
Rinse dishes after eating and put in dishwasher; clean off table from eating
Warm up leftovers in the microwave
Clean up toys after self and siblings (including fairly large messes)
Dust furniture in multiple rooms (doing one room at a time, and receiving feedback)
Clean fingerprints off windows and mirrors
Pull weeds and water plants
Make a simple lunch, such as a peanut butter and jelly sandwich and an apple, for self and siblings
Clean the sink in the bathroom
Fill up pet's water and food bowl
Peel carrots and potatoes for dinner
Measure items for cooking (with assistance), pour and stir (including items on the stove, with assistance)
Gather dirty clothing and bring down to be washed
Sweep a porch or small patio
Organize toys into appropriate bins, drawers, or location
Make bed (possibly needing some assistance)
Put away clean clothing in drawers and in the closet
Match socks from clean laundry and organize into piles according to owner
Get out and put away homeschool materials used for school
Ages 7-9
Make bed by self and straighten room completely
Sort a load of laundry into lights and darks, and wash/dry a load
Make a simple dinner meal from start to finish, such as frozen pizza and vegetables (7s may need some assistance)
Use the vacuum cleaner to vacuum the carpet
Mop floors
Clean a bathroom, including bathtub and toilet
Provide assistance to siblings with their household tasks
Wash the car (with assistance)
Wash and dry dishes by hand
Fold own laundry and put away
Change the diaper of a younger sibling
Take the dog for a walk
Assist with yard work such as mulching, weeding, planting, watering
Read books to younger siblings
Feed infant siblings food Mom has prepared
Ages 10 and up
Clean an indoor room from top to bottom, including dusting, vacuuming and mopping
Give younger siblings a bath/brush teeth or get them dressed
Use a lawnmower to mow the lawn (with assistance for pre-teens)
Cook a meal from start to finish, such as a main course meat and vegetables (with some assistance for pre-teens)
Be completely responsible for own laundry – washing, drying, folding, and putting away
Babysit younger (including infant) siblings while Mom is at home but working or otherwise engaged
Assist younger siblings with school work
Clean out the refrigerator
Expect great things from your children, and they will rise to the task. Train diligently, reinforce positively, and you will reap helpful, responsible, capable children who bring a blessing to your family (and others), and a healthy household which runs smoothly and efficiently.