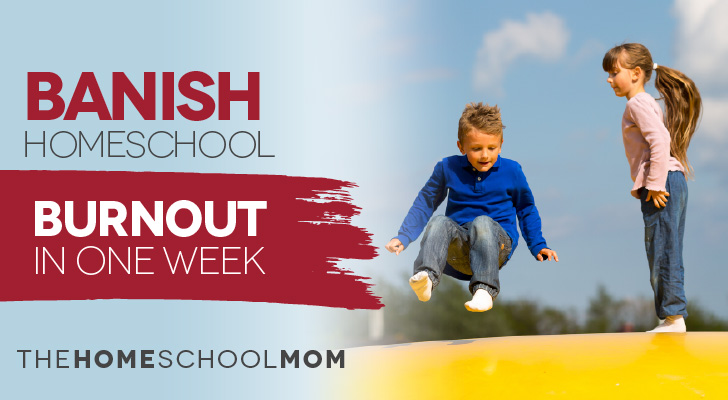 This post is from our contributing sponsor Time4Learning.
As a homeschooler, there comes a point, perhaps several points during your homeschool career, when everyone starts feeling burnt out. The kids are bored, you're at your wit's end and as much as you don't want to admit it, the thought has crossed your mind to send them back to school and throw in the towel.
If this sounds all too familiar, especially as of late, we're here to help. Pick one week this month to change things up and hit the 'refresh' button for everyone in your home. Below are 5 ways to banish homeschool burnout, one for every day of the school week. Can Monday come any sooner?
Monday - It seems like these days there is some wacky holiday for each day of the year. Find out what holiday is taking place on any given day and just run with it. For example, February 27, is Polar Bear Day. Why not visit an aquarium or zoo, or even go to the library and learn everything you can about these fascinating animals? If you can't find a holiday, have the kids make up their own.
Tuesday – Kids love feeling grown up and in charge, so make it a day to remember by allowing them to call the shots. They decide what they want to learn about today and where they want to learn about it. Does your oldest like airplanes? Maybe he or she would like to spend the day watching airplanes come and go from your local airport, or perhaps your little one is a ball of energy and wants to visit a trampoline park. Whatever it is they choose to do, you can turn it into a learning experience with a little creativity.
Wednesday – If you usually stick to a schedule, try doing everything in reverse today. Have breakfast for dinner, take the morning off and spend the afternoon doing schoolwork. If you usually start with math first and end with language arts, do the opposite. If everyone is feeling out of it, doing the unexpected will be a welcome change and keep everyone on their toes.
Thursday – Every city and small town has at least a few historic points of interest nearby. Learn about the area you live in by taking a field trip to a special landmark. Maybe there's a local history museum, archaeological center, or a nearby park that's rich with history that your children will enjoy learning about. Local libraries are home to plenty of historic photographs that will show what your town looked like 100 years ago – something your children will definitely get a kick out of.
Friday – End the week by doing good deeds for others. There is so much to learn by helping those in need. Take your kids to a nursing home where they can spend time with the elderly singing and reading stories to them, or maybe you can volunteer at a local animal shelter cleaning up and offering hugs to lonely dogs and cats waiting for a home.
Homeschool burnout can be prevented. Next time you start to notice yourself or the kids moping and pouting when it comes time to homeschool, take a week off and make those 5 days whatever you want them to be. When you homeschool, you have the flexibility to take a week off, and learn or not learn, anytime you want.