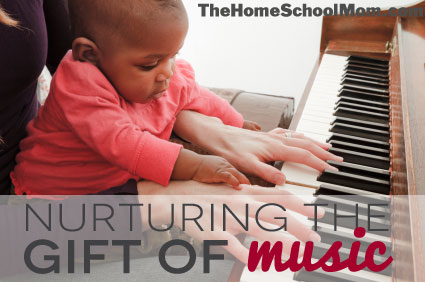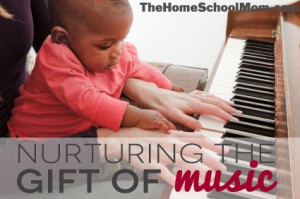 Nurture the Musical Nature
Researchers debate whether nature or nurture creates musical ability in human beings, but many have reached the conclusion that both heredity and environmental factors have roles.
As homeschooling parents, we have a prime opportunity to encourage musical development in our children. Maybe there are genetic factors that will limit how far the kids can develop, but parents can provide an environment that helps musical talent have a chance to flourish.
Let's start at the beginning -- with babies and music.
Sing Lullabies to Babies
It doesn't matter how well you sing or what you sing, just that you sing. Singing to little ones may help turn on their brains in ways that affect language development and even reading skills. This is a great way to set the stage for future homeschooling, for sure, but early exposure to varying pitches and rhythms may also help tune a baby's ear for music.
I liked to combine lullaby-singing with rocking and nursing my babies. Singing adds another dimension of intimacy and communication that creates a pleasurable, soothing experience for babies.
If you don't know the words to lullabies, you can sing along with recordings as you build your repertoire.
Sing Something Else
If you're not the lullaby type, you can sing the same songs you normally belt out in the shower or in your car after work on Fridays. Your baby doesn't have to have a special play list to benefit, though you can adjust your volume for your tiny audience.
I often made up my own words or extra verses to familiar tunes, and I admit, there were times I was tired enough when I was raising a young family that I was singing absolute nonsense.
Listen for Your Child's Response
One of my most amazing moments as a mom came when one of my sons was very little, still in the stage of only speaking single words. He was in the car seat while we were driving, and he was getting tired. As he got drowsy, he began singing a full line from my favorite lullaby.
Barely a toddler, he had never put together a complete sentence while speaking, yet he was singing "My Baby Bunting," which I sang to him at bedtime. I was astonished, but sometimes when he is playing an intricate tune on guitar and singing as a young teen today, I think of the first time I heard him sing -- well before he could talk.
Of course, not all young toddlers are going to burst into song. My little one's personality was very "outward," and he was simply giving me a window into the associations going on in his mind. Other babies might not be so transparent, but they are still benefiting from your crooning.
Still, singing back to my son when he sang was a way to cement music-as-communication for him, and you'll want to be on the look-out for that opportunity.
Parents do sometimes need a break, so we watch TV or read while we rest with our little ones in the recliner. But remembering to sing is also important.
Play Recorded Music -- Out Loud
In the age of personal music collections on iPods and smart phones, we frequently are plugged in to our music through our personal ear phones. It's easy to forget that babies and toddlers can't hear what we're listening to that way.
Being plugged in can create a separate world for mom or dad. I concede that when we've had "enough" and need a break, this might be a coping mechanism to be used sparingly, but most of us will want to be more tuned in more of the time because we want our babies and toddlers to benefit from being in the same aural world we're in.
When we listen to music through speakers (remember those?), our little ones can soak up the pitch, the rhythm, the lyrics, the energy, the instrumentation, the variety of sensual experiences.
Involve Dad
In our household, my husband took pride in providing the recorded soundtrack for even the youngest children in the family. A musician himself, his musical tastes vary from blues to bluegrass, with everything in between.
How we laughed with babies who would "dance" when they could barely stand, as they bent their little knees in sync with the beat, one hand on the wall to hold themselves up. It turns out that babies are likely hard-wired to dance; giving them the chance to move with the music allows them to "practice" something that comes naturally.
Sharing his musical collection with his kiddos was an act of nurturing that came naturally to my husband, and I think it's something many dads can enjoy.
Of course, older siblings in a homeschooling family have front row seats to witness this kind of nurturing. Older children are likely to sing or play music for their baby brothers and sisters when they grow up with moms and dads who make it a regular part of their interactions with the youngest member of the family.
Fill Them Up with Music
In other words, to increase your children's chances for being musical, begin to fill them up with music when they are babies. If you naturally have a lot of music in your life, this comes easily. However, others of us can think consciously about providing musical experiences.
You'll find more ideas for music with your kids right here on TheHomeSchoolMom, and I'll have ideas for encouraging music in toddlers and preschoolers in Part 2.