We have always struggled, like many homeschoolers, with the gift-giving part of Christmas.
My husband comes from a huge gift-giving family. I come from a family in which money was always tight and gifts tended to be few but meaningful.  We both have a faith that leads us to condemn unmitigated materialism, convicts us about our prosperity amongst a world of poverty, and challenges us to find a balance between the joy of giving and the selfishness of indulging.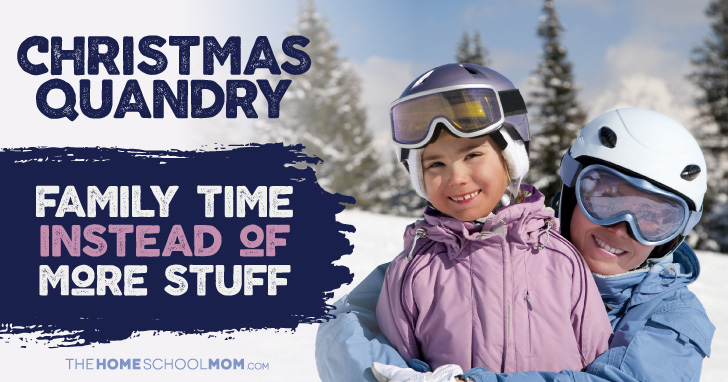 It can make the Christmas season tiring.
We've (fairly unsuccessfully) attempted the "overall reduction" approach to Christmas gift-giving. We've sought to off-set the money we spent on gifts for each other with purchasing items like goats and chickens for needy persons in third-world countries. We have talked about doing the "each person only gets three gifts, one to represent each gift of the Wise Men" thing. And although all of these efforts have had their pros and cons, each year we have still managed to get to the end of the season feeling like we overdid it. Somehow the "few" gifts we think we buy for our children get multiplied by like 1,000 when they actually go under the tree with everything from grandparents and aunts and uncles we haven't seen in years but who send the kids things anyway.
This year, we've come upon a gift-giving epiphany – a solution to the "How much is too much?" question.
It actually started back in the summer.
Not only have we had this "how much is too much" conundrum at Christmastime, but at birthdays as well. Somehow in the past few years, little kid, themed birthday parties that lead to my children sitting amongst a mountain of presents have come to seem more and more ostentatious and superfluous. So this past July we tried something different. Instead of a birthday party for my then-7-turning-8-year-old, we went on a family overnight trip to Busch Gardens. We did it as a combination celebration of her birthday as well as a way to do something fun as a family over our late son's birthday, which occurred right around the same time.
It was an absolutely wonderful trip, and the birthday girl didn't miss the party or the presents at all.
We rode roller coasters and stayed in a hotel (hotel pool for the win!) and laughed and played and enjoyed one another as a family. We temporarily forgot our grief, celebrated life, and came home feeling that it was money perfectly well spent.
Family time, not stuff.
When you've stumbled upon a good thing, why not keep it going?
We have decided to keep up the "family experience" theme for Christmas. So while we have purchased a few small things that we know each of our children will love, to have under the tree, this year our "big gift" to the kids is going to be the gift of family time. Rather than filling our playroom with more clutter, we are planning… a family ski trip! Our whole family loves to snow ski, but it is such an expensive sport that we do not tend to go very often. The lift tickets for a ski vacation in January will be under the tree, so the girls know what is coming, and can anticipate the Christmas excitement that will extend long after the 25th has passed.
We can't wait.
It is the perfect solution for our family. Rather than stockpiling more material goods, we are investing in each other. A couple of small items so there is something tangible to enjoy on Christmas day, gift catalog purchases for those in need, and the rest invested in a special family experience seems to be the recipe that answers our constant Christmas quandary.
But it gets even better. What could make a homeschooling mom happier than discovering that a solution that seems to work for her family is actually backed up by science?
That's right. A recent book by Harvard professors, based on years of behavioral science research, demonstrates that money can buy happiness…if you spend it on experiences rather than things! Authors of the book Happy Money: The Science of Smarter Spending found that while material possessions lose their value over time, experiences produce fond memories that only improve over time.   Another study from San Francisco State University found that "experiences produce more happiness [than material possessions] regardless of the amount spent or the income of the consumer".  The researcher explained, "Purchased experiences provide memory capital. We don't tend to get bored of happy memories like we do with a material object."
Experiences focused on people over things. It's a concept homeschoolers have known for a very long time. I'm just, this year, clueing in to how to apply the concept to Christmas for our family.
So whether it is this Christmas, future Christmases, birthdays, or other gift-giving occasions, consider bestowing the present of "family experience". It might, like it has been for our family, end up being the perfect solution for your gift-giving woes!