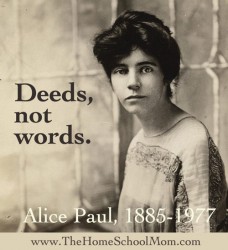 Election day is tomorrow and it got me thinking about the various reasons people don't bother to vote—they don't like the choices, they don't think they can make a difference, or they simply don't care.
As a woman, I ponder the impact that Alice Paul and the women's suffrage movement had on women's rights. Women were jailed and beaten at what used to be the Occoquan Workhouse (later to be Lorton Federal Prison) in their fight for women to have the vote.
Alice Paul was a leader of the US women's suffrage movement in the early twentieth century, following in the footsteps of Susan B. Anthony and Elizabeth Cady Stanton.
Paul was raised at Paulsdale, a 265-acre farm in New Jersey. As Hicksite Quakers, her parents raised her to believe in gender equality. Other tenants of the faith are a belief that one must work to better society as well as the importance of simplicity and staying close to nature, something that was easy to do at Paulsdale. Despite being well-off financially, Paul chose to dedicate her life fighting for equality, which often had brutal consequences.
A visit to England in 1907 introduced Paul to the militant side of the battle for women's suffrage and inspired her to bring the same fight to America. Her motto, "Deeds, not words", was adopted from this group of English women.
In her sometimes violent fight for women's rights, she was inspired by this sentiment originally expressed by Thomas Jefferson: "Resistance to tyranny is obedience to God." While Paul's quest was sometimes violent and we may or may not agree with her methods, her story and the resulting Constitutional amendment giving women the vote is worthy of discussion.
For more about Alice Paul, visit the Alice Paul Institute website and National Archive's profile of Alice Paul on their blog, Pieces of History. For more about women's suffrage, visit the Women's Suffrage page on TheHomeSchoolMom.