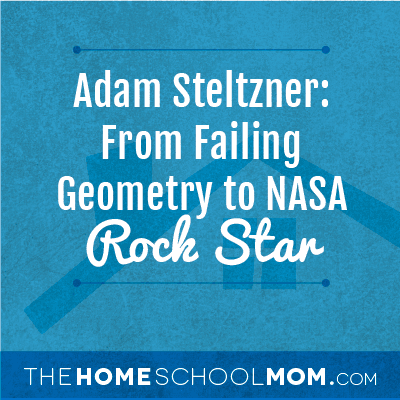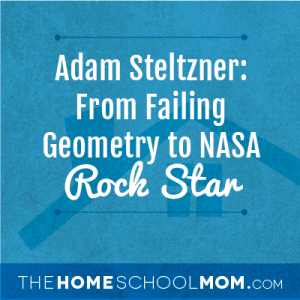 You may not have heard of Adam Steltzner at all, or if you watched the Curiosity rover's landing on Mars you may know of him as "Elvis guy" at NASA's Jet Propulsion Laboratory. He has a PhD in Engineer Physics, and the story of his rise to "rock star" status among millions of NASA fans is inspiring. He wasn't a typical science nerd. According to an interview with NPR,
"Unlike many successful engineers, he struggled at school. An elementary school principal told him he wasn't very bright. His high school experience seemed to confirm that.
"'I passed my geometry class the second time with an F plus, because the teacher just didn't want to see me again,' he says.
"His father told him he'd never amount to anything but a ditch digger, a remark he still carries with him years later." 1
Discouraged and bored, Steltzner lost interest in academics and became a musician. After high school, he pursued music. Driving home after a gig one night, he noticed the stars and how the constellations were in different positions in the sky when he drove home than they were when he drove to the gig. His interest was piqued and he decided to take a physics course at the local community college, where he was hooked on science.
Today, Dr. Steltzner is a scientist admired by millions for the feat of leading the team that landed the Curiosity rover on Mars. As the lead mechanical engineer for the Curiosity's landing, Steltzner has come a long way from failing geometry. He now has a B.S. Mechanical Engineering, an M.S. in Applied Mechanics, and a PhD in Engineer Physics. Not only does his story highlight the power that our words and attitudes have over children, it is yet another piece of the puzzle that ultimately shows that learning can only really happen when a student has intrinsic motivation or interest in the subject. One could say that Adam Steltzner's curiosity led him to his ability to land Curiosity. It's amazing what can happen when a student is inspired and allowed to learn in his own time.
Interested in learning more? Here are some resources related to Curiosity and the scientists who handled the landing:
Wait, wait... don't tell me - Listen to Bobak Ferdowsi ("Mohawk guy") and Adam Steltzner on NPR's radio show
Crazy Smart: When A Rocker Designs A Mars Lander - NPR's article about Adam Steltzner
Mars Curiosity on Facebook - Follow the Curiosity on Facebook, where posts are in the first person from the rover's perspective
Mars Curiosity on Twitter - Follow the Curiosity on Twitter, where posts are also in the first person from the rover's perspective
Detailed graphic of Curiosity's landing plan
Main website for Curiosity Mars Rover
Mars for Educators

Mars for Students
_________________
1 http://www.npr.org/2012/08/03/157597270/crazy-smart-when-a-rocker-designs-a-mars-lander