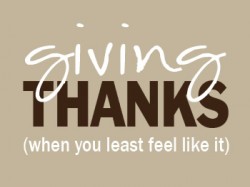 My eldest daughter reminded me of it, as we read again the story of the first Thanksgiving.
"Mom, last Thanksgiving is when I told everybody about the baby. Remember? We all went around the table and told what we were thankful for, and I got to say, 'I'm thankful for the baby in Mommy's tummy'".
I hadn't remembered. Her words brought it all back - the excitement, the anticipation, the joy. The ultimate sense of gratitude we had for the new life that was coming, and the fun plans we had for surprising the family with the revelation, right in the middle of the season of thanks. The ensuing thankfulness when we learned he was a boy; the only boy in a family of girls. It was a time of overflowing thanksgiving, of praise for our blessings and for our abundance.
This Thanksgiving we have a new perspective.
That baby, for which we were so thankful, died, after just 4 short days of life, on August 3, 2012.
How, exactly, are we supposed to do Thanksgiving this year?
Instead of swimming in a calm sea of joy and hope, we are clawing at choppy waves of grief and sorrow. We are living day by day, as we slowly process life without our sweet little man. It is hard. Harder than we might have ever thought. So it's a question worth asking – Thanksgiving? How do we handle this season of finding things for which we are grateful?
How does anyone give thanks in seasons seemingly defined not by what has been enjoyed, but by what has been lost?
It is a lesson we are learning this year. Probably the most important one of our entire homeschool.
For us, Thanksgiving this year will, ironically, be sweeter. It will be deeper, it will have more meaning. In past years, giving thanks became routine, expected. It was a nice ritual to do with the kids, and a perfunctory process that I knew helped to stave off self-sufficiency and selfishness. Thankful for home, thankful for health, thankful for family…I could rattle off the list without much thought or emotion.
Not this year.
This year, giving thanks has become a sacrifice. It is a soul-wrenching, energy-draining exercise of consciously focusing on what we have, rather than on what has been taken from us. It is the decision to move forward in hope and in gratitude for what we've been given, rather than in despair and anger over what we have lost; to focus on the God who is giving and good even while living in a world that takes away. We have learned that giving thanks finds its fullest meaning when you experience that the object of your gratitude can truly be lost.
Losing a child has brought us to be able to give thanks in a new way. Just as a dehydrated man who has walked through the desert for days engulfs water to hydrate himself, our gratitude now has a fervor we've never before known. As we give thanks for the blessings in our lives, we do it with a new-found depth; almost a desperation. We now treasure what we have been given. We don't just appreciate it; we cherish it.
When you understand being without, the having is so much sweeter.
And that is how we choose to do Thanksgiving this year. The glass can be half full or half empty – we choose to see it as half full. In this life we will all experience pain and death and suffering. But that is not all there is. There is also comfort and happiness and beauty and life. We choose to build our lives around the latter. And we believe that the doing so – choosing to focus on the good rather than the bad - will sow in ourselves and our children a character that ultimately redeems goodness from devastation.
So we will count our blessings with deeper care. And we will show gratitude with new-found meaning. And we will give thanks, this year, that losing what was most precious to us has helped us learn what thanksgiving really is. Because if good can come from the times that we least feel like giving thanks, then it is a true Thanksgiving indeed.