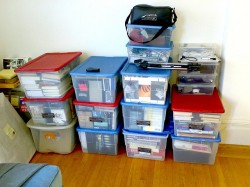 New year, new opportunities, new resolutions! For most of the world, the New Year's resolution list might include such optimistic intentions as losing weight or starting a new hobby. But what about homeschoolers? While many people make optimistic and grandiose plans for 2011, the New Year's resolutions of homeschoolers might just look a wee bit different from those of the general public...
Install 10 sets of bookshelves in the basement to hold the homeschool materials currently occupying the floor, stairwell, dining room hutch, end tables, nightstands, space under each bed, and kitchen cupboards. Oh, and trunk of the car.
Hire a chauffeur to take the kids to piano lessons, dance, volunteering at the nursing home, gymnastics, homeschool soccer, apprenticeship at the newspaper, the homeschool group communications class, drama team, church youth group, and their babysitting job. Note to self: give chauffeur copy of No Thank You, We Don't Believe in Socialization by Lisa Russell.
Put 4'x4'x4' soundproofed plexiglass cubes in the living room (with a desk in each), so 5 children can get schoolwork done in the same room without disturbing one another.
Begin a home-based side business that brings in 6 figures a year but only requires 1 hour of work a week. Preferably something that the kids can help with. That will give them future employment skills for any kind of work, in any field.
Attend every homeschooling convention in a 5-state radius, in order to be sure to cover all the bases in terms of inspiration and curricula.
Build an addition to the house, specifically designated for displaying homeschooling crafts, essays, lapbooks, art, video assignments, and science projects. Include a fully functional science lab, with electron microscope, in one portion of the addition.
Join the gym. So the kids will get enough exercise that they fall asleep quickly and easily, EARLY in the evening. And so Mom can have an hour of time to watch t.v., read a book, or just think - uninterrupted.
Start a slush fund. To pay the library fines throughout the year which arise from losing track of the library books that get lost amongst the hundreds of other books and educational paraphernalia that are in every room.
Read every book by homeschooling gurus Cathy Duffy, Mary Pride, Susan Wise Bauer, Linda Dobson, Mary Griffith, Ruth Beechick, and Valerie Bendt. And use their ideas to create the most comprehensive, individualized, interesting, effective curriculum that has ever existed. For every age group. And every ability level. And every learning style.
Invent a toy that is educational in nature, which will keep 1-2 year olds safely occupied and engaged for 4 hours at a time. Which doesn't require parental intervention in any way.
Buy five more computers. So Mom no longer has to compete with Dad's e-mail checking, child #1's English essay writing, child #2's Math memory game, child #3's Spanish enrichment program and child #4's distance learning class for time to work on transcripts.
Find an educational and related field trip to accompany every History lesson throughout the year. Within a 60 mile radius of home. That costs less than $1 per person.
Spend less time stressing, worrying, comparing, and feeling guilty, and more time enjoying this formative, yet ultimately brief period in our family's life where we get to impact the persons our children become!