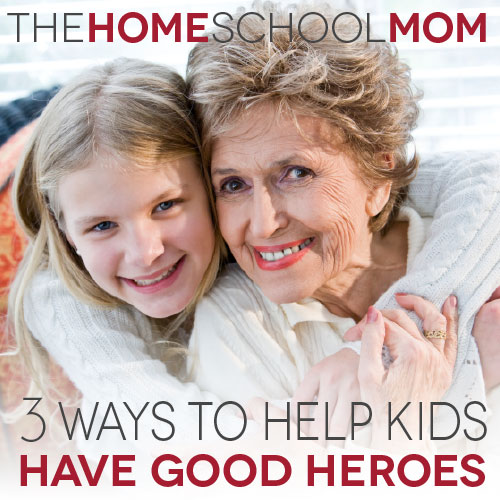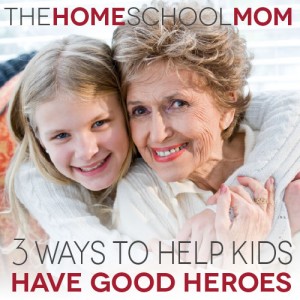 What kind of heroes do I want my kids to have?
It's a question I've been pondering, lately. Because children do have heroes -- people they admire, desire to be like, emulate. I know, we homeschoolers tend to hope that we will be our kids' heroes, but it is pretty inevitable that somewhere in their tween years our offspring will become fans of someone other than just Mom and Dad.
The people children idolize can significantly influence the kinds of people kids become in the future.
The typical cultural heroes -- movie stars, sports players, musicians, t.v. darlings and entertainment icons -- are rarely bastions of virtue and often make better cautionary tales. Money, sex, power, and vacuous celebrity unfortunately tend to top the list of themes paraded before our kids by culturally condoned fan-worthy idols. It is not uncommon to find popular "role models" in the spotlight one day, only to be knocked off their pedestal by scandal the next.
I want better for my children.
I want my kids' role models to be the kind of people I hope them to be when they grow up. I want them to admire individuals who offer something to the world that is lasting -- persons of integrity, value, and character. I want their adulation and imitation to be reserved for those who function according to moral principles and serve others and live outside of themselves.
It's not easy, in this world, to find such heroes.
So are our kids just doomed to idolize the next Lindsay Lohan or Alex Rodriguez? Is it just a given that the objects of their adulation will have little more to add to society than a good throwing arm or new perfume line?
I don't think so. And that's where we come in.
What Parents Can Do to Help Kids Have Good Heroes

I believe that it's our job, as parents, to help our kids discover the right kinds of heroes. There is quite a bit we can do to help children become fans of the right kinds of people, and taking the time to influence our kids' role models can make all the difference in what they value in the future. But more than simply following certain "steps", we need to create a culture, within our family, in which good role models are revered and poor ones are rejected.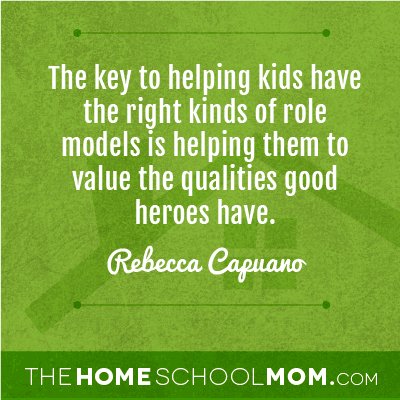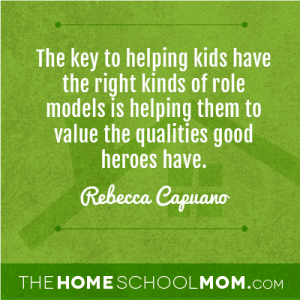 The key to helping kids have the right kinds of role models is helping them to value the qualities good heroes have. Kids choose role models based on the things that matter to them -- if they care about money, outward appearance, or fame, they will be drawn to idols that exhibit the same. The way to create a culture in which youth want heroes with substance and character is by helping them espouse values of substance and character for themselves. When children have internalized that qualities such as kindness, respect, and self-control are valuable, they are likely to look up to people who exhibit those qualities. It is a cycle that keeps on giving -- children's valuation of lasting character qualities leads them to choose beneficial role models, and the more substantive heroes they admire, the more they will be exposed to and reinforced to continue appreciating values are worthwhile.
So what, exactly, can we as parents do in this process?
I think there is a number of things homeschoolers can do to influence the kind of role models our children admire, but they must be implemented in conjunction with one another.  Creating a culture in which kids come to esteem excellent mores requires, I believe, careful, intentional effort involving three major aspects:
Limit kids' exposure to negative role models, especially when they are young.
Introduce children to the kinds of heroes you want them to have.
Emphasize, in the home, the values of the role models you want children to emulate, through education and modeling.
A coordinated process of monitoring the negative, introducing the positive, and emphasizing, in the family, the values you deem important, is the best way to encourage an environment in which children internalize for themselves values that are lasting and worthwhile. This three-part series will address the ways that each of these three aspects work together to help children naturally be drawn toward the right kinds of heroes.
This article will address the first of these three:
1. Limit kids' exposure to negative role models, especially when they are young.
It is tough to find good heroes in the ubiquitous entertainment culture that surrounds us, and children should not be left to their own devices to navigate it. Parents should involved and be a guiding factor as to the people (real or otherwise) that are allowed to influence their children. Kids don't have to live in a box in order for this to happen; some careful, intentional involvement by Mom and Dad can go a long way to limit negative influences while preventing kids from being completely sheltered from the world around them (and, in fact, preparing them for effectively interacting with that world). The level of limit should be commensurate with the child's intellectual, emotional and moral maturity. Young children whose value base is yet to be established obviously need more limits to their exposure to negative role models, while older youth should have the opportunity to experience, under guidance, values that do not reflect their own, so that they can dialogue about and learn from them.
How does this look in practicality? Monitor the content of kids' t.v. consumption, movie choices, and music options, and limit their access to poor influences while they are young. Use filters on computers, and carefully screen every bit of entertainment access for appropriateness. As children develop, talk to kids about the choices portrayed in media, and why certain programs, songs, or individuals do not reflect the values you want your children to have. As children gain the maturity in their value base to be able to effectively process it, allow some carefully monitored exposure to influences that are contrary to your family's values, and use them as teaching opportunities. Dialogue about irresponsible actions spotlighted by society, and the consequences that are incurred by everyone affected by them. Have low tolerances for "junk" and a protective eye for influences that might shepherd your children in directions you don't want. And, as youth grow and develop, keep an open channel of communication around issues of values as youth experience less-than-ideal role models.
Monitoring kids' exposure to negative role models is a good place to start in encouraging children to voluntarily choose heroes of substance. However, limiting their exposure to negative role models is not sufficient by itself; this effort can likely have the opposite effect if not used in conjunction with the other two aspects. Alone, this effort can lead to youth rebelling against what they perceive as suffocating restrictions by delving full-force into whatever influences Mom and Dad decry. We want kids whose values have become their own through thoughtful discernment – not ones who simply parrot their parents' beliefs because they have never been exposed to anything that might challenge them.
No, creating a culture in which kids want good heroes involves more than just limiting the negative. Part 2 and part 3 will address the other aspects needed to develop a culture that encourages children to make sure the people they idolize are worth it.
Stay tuned...