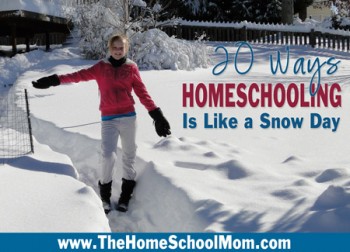 It was BIG NEWS at our house...the fact that a storm was coming, and we were going to get up to 6 inches of snow! Living and homeschooling in Southwest Virginia, we get just the right amount of the white stuff -- enough to have at least a couple of decent snows a year for the kids to play in, but not so much that we dread winter and have to spend months digging ourselves out of it. And, regardless of the fact that we are homeschoolers and could technically trudge through with academics, in this household, we take snow days. As in, no school, lots of hot chocolate, and everybody sledding all day. We categorize it as, um, physical education.
And as I was bundling the girls up for some outside excitement, it hit me that there are some interesting similarities between snow days and homeschooling. Maybe I was just trying to justify eschewing academics for some romping around in white fluff, but hey. You never know when inspiration is going to strike. So, in honor of the winter months, here are 20 ways homeschooling is like a snow day:
For both, you'd better learn to enjoy spending a whole lot of time, together, in a house, whether you like it or not.
Sometimes the effort required just to get everyone where they need to be makes you wonder why you're doing it to begin with.
Somehow the excitement everyone has at the beginning ends up degenerating into whining, complaining, and exhaustion if you don't take some breaks periodically to refill and recharge.
There is never enough room for all of the stuff needed, and you're pretty much guaranteed to think, at least once, "Why don't we have more storage space?"
A planned outing that requires you to leave the house can take the day from ordinary to being an exciting adventure.
If you go too quickly by yourself on the ride, you end up crashing and people get hurt in the process. But if you double up with someone who knows how to steer really well, and you keep your speed under control, you can have the ride of your life.
Moms tend to end up doing a lot of the work, while Dads tend to get more of the fun.
Everyone has to use the stuff that fits them correctly. Otherwise everything either falls off and provides no benefit, or is so restricting that it causes fits.
For the kids to have fun, it almost always means there's going to be a good amount of clean-up involved.
You realize somewhere things got off track when you find yourself yelling at your children, after hearing their 725th complaint, "This is supposed to be a good thing we're doing, remember?!"
When you join up with friends, you realize that the entire experience is a whole lot more enjoyable.
It's pretty much a guarantee that someone is going to lose a critical item needed to make it through. And it almost always ends up being Mom's job to find it.
You usually go ahead and get up and go do something with the kids, when really what you want to do is curl up under the covers and read a good book by yourself in peace.
Sometimes you're able to hit your target perfectly, and sometimes you get hit upside the head when you were least expecting it. When the latter happens, everyone will have a better time if you just laugh it off and keep going.
The inevitable slips along the way may bruise parts of you that you'd rather not have bruised, but they also teach you how to adapt your path toward one that will more effectively get you where you want to go.
Sometimes, a little hot chocolate and snuggling under warm blankets can just make the day complete.
The footprints you make allow children to follow in your footsteps.
The tears from the stumbles along the way are worth it for the smiles of joy when the ride went well.
It's the tiny things, piling up little by little over time, that create something of great beauty.
When you're looking uphill, it can seem like you'll never make it to the top. But if, with perseverance, you get there, the view is really, really great -- great enough, in fact, to make it well worth the difficult climb.