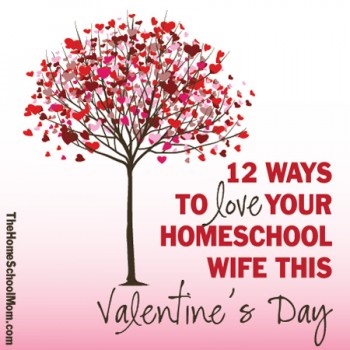 Valentine's Day is coming up. And, guys, even if you haven't thought about it yet, it's highly likely that your wife has. And that she's anticipating something from you.
Especially if she's a homeschooling wife.
Because, let's face it, she doesn't get a lot of accolades for what she does from anyone else. No "celebration of the 100th time you got Johnny back on task without losing your cool" or awards for "Homeschool Mom Most Able to Overcome Learning Obstacles All On Her Own". Not even any team excellence award. Because – oh yeah. There is no team. Plus she has to deal with the "I can't do this" chair flops, overflowing science projects, and baby poop – often at the same time.
Yeah, she needs some love.
So I'm here to help. Yeah, yeah, you may think you've got this, since you've been married for a while, but trust me. I can help you rock her world, and make you an instant homeschool hero this Valentine's Day. Interested?
OK, then. Here goes – your tailor-made list of ways to love your homeschool wife. Pick one thing, or a couple of things, or be a homeschool knight in shining armor and do all of them over a Valentine's Week. Who knows what you might get out of the deal.
Start with chocolate. Because you can never go wrong with chocolate for stressed-out homeschool moms. And then let her go sit in the car, alone, while you watch the kids, to eat it in complete silence. And then tell her she looks beautiful, after she eats the chocolate and doesn't fit quite so well into her jeans.
Set up a special date for the two of you. And by this, I mean set it all up. Get reservations made, the babysitter lined up, and let her know what kind of outfit she needs to wear and when to be ready. And then, during the date, don't pull out your iPhone or iPad or iAnything at all during the whole date, and instead look into her eyes the entire time and really listen to every word she says, interjecting periodic questions to demonstrate true interest. Oh, and open the door to the car for her and pull out her chair, like you used to do when you were dating.
Buy and read a book on homeschooling. Yes, you read that right – a book on homeschooling. A book you think she would like to read, if she had time. Really read it, and use it to have an intelligent conversation with your wife about what she does. Make notes about certain aspects of the book that you think she might be interested in, and ask your wife her feelings about those homeschooling issues. Then listen, and learn.
Make a meal for the family. And double it. So she has enough for not only tonight's meal, but for the next day or two as well. And then, when you're done, clean it all up and let her watch t.v. while you do it.
Tell your wife that you want to spend a morning watching what she does with homeschooling, just because you think she's amazing and you want to understand better how she gets everything done that she gets done. And then go in later to work, or whatever you need to do for one day, and actually watch her. Afterward, resist the temptation to critique or offer "helpful" suggestions, and simply let her know all of the things that she's doing that you think are amazing. And if you really want to score some points? Point out all of the good things you read about in that homeschooling book that you saw her doing in her own homeschool.
Pay for housecleaning. Set it all up ahead of time and when you hear her complain about how overwhelmed she is, or how dirty the house is, let her know that you have a housecleaning service coming to take care of it. Sit back and just feel the love.
Tell her you will watch the kids for an entire day, while she goes out with her girlfriends. And while she's gone, don't just let them play video games or watch cartoons - do something creative and educational with them that will blow her socks off when she gets back and finds out what you've done.
Build her some book shelves. Because every homeschool mom can always, always use more book shelves.
Offer to homeschool for her for one day. Set up for her to have a pedicure or massage while you do it. Do it on a day you're off from work, or even take a day off to do it. Tell her you want to understand what her world is really like, and then homeschool from start to finish – every subject for every kid. When you're done, tell her just how hard it was, and how you're astonished she's able to do it every single day. And mean it.
Ask her to tell her one thing that you could do that would make her life easier, and then offer to do whatever it is. Even if it's cleaning the toilets or changing the [insert homeschool-mom appropriate expletive here] sheets on the top bunk bed.
Get tickets for both of you to go to a homeschool convention. Go with her, without the kids, and attend homeschooling workshops together. Discuss them, like you really care. Go around with her and investigate the curriculum options, and ask her questions about why she likes certain ones. Take her out at night for a good meal, and give some heartfelt "ooh"s and "ahhh"s as she excitedly shows you that Daily Grammar Lesson book she got at the used curriculum sale for $1.50.
Every day for a week, leave her a small note in an obvious place that tells her one thing that you love about her, and about what she does as a homeschool mom. Accompany the last note with flowers or, of course, chocolate.