All about Kansas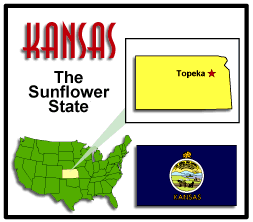 Websites for studying about Kansas
A to Z Kids Stuff - Kansas
Fun Educational Activities
Kids Konnect.com - Kansas
Webpages created by a retired teacher to help kid safely learn on the internet about Kansas.
Kansas Fun Facts
U.S. Census Bureau
TheUS50.com - Kansas
Information about Kansas. State study guides have been added to the Fast Facts pages
The 50 States - Kansas
From TeachersFirst. A comprehensive resource on Kansas
Mr. Donn.org - Kansas
Mr. Donn has been online for as long as I can remember and he has one of the largest collections of social studies resources available. This is his collection of Kansas resources.
Class Brain.com - Kansas
From Class Brain.com. The site offers everything you would need to do a great report on the state of Kansas.
Explore the States - Kansas
From the Library of Congress. Games and stories of America's past.
50 States.com - Kansas
Facts & Trivia about Kansas
RoadsideAmerica.com - Kansas
Unique tourist attractions and landmarks in Kansas
More websites for studying about Kansas...
Local homeschooling groups, classes, and events for Kansas
Santa Fe Trail Home School Association

A Walk in the Park Unschooling Group

Christian Homeschool Alliance of Leavenworth, Kansas

More Kansas homeschooling groups, classes, and events ...
State Facts
Kansas was the 34th state to join the union. It became a state on January 29, 1861.
Capital - Topeka
Abbreviation - KS
Nickname - Sunflower State
Motto - "Ad astra per aspera" - To the stars through difficulties
Song - Home on the Range
Bird - Western Meadowlark
Flower - Sunflower
Insect - Honey Bee
Area - approximately 82,282 square miles
Kansas field trips
Fort Scott National Historic Site
Fort Scott is a restored 1840s military fort that tells the story of the site's role in Westward Expansion, Bleeding Kansas, and the Civil War. Fort Scott served as a major supply depot for Union armies in the West, a general hospital for soldiers in the region and a haven for people fleeing the war-displaced Indians, escaped slaves, and white farmers. The website offers a movie link.

Brown v. Board of Education National Historic Site
Brown v. Board of Education ended legal segregation in public schools. This site helps tells the story of the people involved and the political climate of the times. The website offers historical information about the park for those who cannot visit in person.

The Kansas African American Museum
People, Pride and Promise - telling the story of the African American experience in Kansas - Past Present and future. Join TKAAM every third Saturday for an afternoon that will inspire kids to become lifelong lovers of reading. Story time Village will offer exciting and interactive stories read by special guests and community leaders.

David Traylor Zoo
The David Traylor Zoo provides visitors with opportunities of cultural enrichment through conservation, education and recreation.

Butler County History Center & Kansas Oil Museum
The Kansas Oil Museum is the leading museum dedicated to the discovery and development of the oil industry in Kansas. Enjoy indoor exhibits on farming, ranching and oil; a hand-on children's area, Texaco Theater and Kansas Oil and Gas Legacy Gallery

Great Wolf Lodge
Great Wolf Lodge is North America's Largest Family of Indoor Waterpark resorts, and the ultimate destination for your next family getaway. Designed to capture the atmosphere of the Northwoods, our waterparks offer an amazing guest experience in a one-of-a-kind, rustically elegant setting. The perfect place for families to re-connect, and create lifelong memories. With one of our fully-themed resort suites as your family's base camp, you can set out on your Great Wolf adventure. You'll likely first discover our gigantic indoor waterpark, where it's always 84 degrees. And that's just the beginning. Besides our waterparks, don't miss our themed restaurants, interactive arcades, full service spas (and even a version for kids!), fitness centers, and so much more. And with more than 10 locations coast to coast, Great Wolf Lodge is the perfect, weatherproof, year-round destination for your busy family. So whether your family splashes the day away in the waterpark, enjoys a delicious family meal in our restaurant, or enjoys our nightly Storytime together before calling it a night, we think you'll agree, there's no time, like a Great Wolf time.

Old Depot Museum
The centerpiece of the collections of the Franklin County Historical Society is the Old Depot Museum. A fancy, limestone "county seat" depot with offices upstairs for the division offices of the railroad, the depot in its present state of preservation is a destination in and of itself. However, it also houses a wonderful collection of artifacts which range from items from the Grand Army of the Republic, the Union Civil War veterans' organization to furniture, clothing and tools collected steadily since 1960. The museum features a permanent display, "Trails, Rails and Prairie Tales," that gives the visitor a chronological tour through Franklin County history from native times to the 20th century. An elaborate, almost 40-year-old HO model train layout recreates train service in Ottawa in 1950. Featured exhibits highlight special events, collections and themes.

U.S. Presidents from Kansas
Thanks to graphicmaps.com for the state graphics