All about Idaho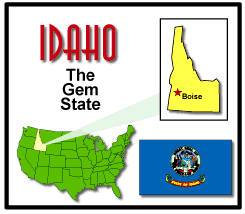 Websites for studying about Idaho
Common Trees of the Pacific Northwest
Welcome to the tree identification Home Page at Oregon State University! The purpose of this site is to help you identify common conifers and broadleaves in the Pacific Northwest. Feel free to skip through the pages to learn more about specific genera, or to try your hand at identifying a tree specimen with a user-friendly dichotomous key. If you don't have a specimen handy, go to the mystery tree pages to try to identify the trees pictured.
Idaho Fun Facts
U.S. Census Bureau
TheUS50.com - Idaho
Information about Idaho. State study guides have been added to the Fast Facts pages
The 50 States - Idaho
From TeachersFirst. A comprehensive resource on Idaho
Mr. Donn.org - Idaho
Mr. Donn has been online for as long as I can remember and he has one of the largest collections of social studies resources available. This is his collection of Idaho resources.
Class Brain.com - Idaho
From Class Brain.com. The site offers everything you would need to do a great report on the state of Idaho.
Explore the States - Idaho
From the Library of Congress. Games and stories of America's past.
50 States.com - Idaho
Facts & Trivia about Idaho
RoadsideAmerica.com - Idaho
Unique tourist attractions and landmarks in Idaho
Awesome America - Idaho
Loads of fun facts, photos, and travel information about Idaho.
More websites for studying about Idaho...
Local homeschooling groups, classes, and events for Idaho
Kootenai County Homeschoolers In Christ (KCHIC)

Christian Homeschoolers of Idaho State Support Groups

Idaho Coalition of Home Educators

Treasure Valley LDS Homeschoolers

Sonlight Homeschoolers--Treasure Valley

More Idaho homeschooling groups, classes, and events ...
State Facts
Idaho was the 43rd state to join the union. It became a state on July 3, 1890.
Capital - Boise
Abbreviation - ID
Nickname - Gem State
Motto - "Esto perpetua" - May it Endure Forever
Song - Here We Have Idaho
Bird - Mountain Bluebird
Flower - Syringa
Insect - Monarch Butterfly
Area - approximately 83,574 square miles
Idaho field trips
Warhawk Air Museum
The mission of the museum is to teach and preserve World War II history from the home front to the war front and aviation history from the advent of flight through the space age. The Warhawk Air Museum encourages an educational experience about the technology, culture, and social changes that have occurred in North America since World War II.

Zoo Boise
The Zoo Boise features giraffe encounters, a butterfly house, a Wallaby walkabout, sloth encounters, and a zoo farm for visitors.

The Basque Museum & Cultural Center
The Basque Museum & Cultural Center provides a look into the heritage of the Basque communities of Idaho and surrounding areas. Boise, Idaho has long been a central location where Basque immigrants first congregated after coming to the United States from the Spanish Basque Region. As immigrants established their lives here, Basques became well known for their hard work and perseverance. The Basque Museum & Cultural Center provides a look into the Basque heritage by exhibits, collections, and tours. As a cultural center, it's a gathering place for events and educational opportunities - in which people of all backgrounds can participate in Basque activities.

Blaine County Historical Museum
At the Blaine County Historical Museum visitors can explore the Wood River Valley's pioneer past, research family histories, and view vignettes of mines, schools, ranches, famous literary personalities, period fashions, and political memorabilia. Each display shows aspects of the life that early inhabitants and pioneers experienced.

Boise Art Museum
BAM is the only nationally accredited, collecting art museum in the State of Idaho—accredited through the American Association of Museums (AAM). For over 70 years, Boise Art Museum has been providing access to the visual arts for people of all ages, incomes, and abilities.

Canyon County Historical Society
The purpose of this Society shall be to help investigate and preserve for future generations any kind of historical records, documents, sites, buildings, articles and artifacts, pertaining to Canyon County and to promote interest and concern for Canyon County history. To bring together those people interested in this history and promote better understanding of our state and nation, plus a better appreciation of our American heritage.

Clearwater Historical Museum
Clearwater Historical Museum invites folks to come see our collections that focus on the people and history of Clearwater River Country and its environs including Clearwater County and parts of Lewis, Nez Perce, Idaho and Shoshone counties. Our goal is to share the Clearwater River drainage rich legacy that started long before history was recorded. Our museum features artifacts relating to the Nez Perce People, the Lewis and Clark Expedition, gold mining, early homesteading, farming, logging and much more.

Thanks to graphicmaps.com for the state graphics