The Raft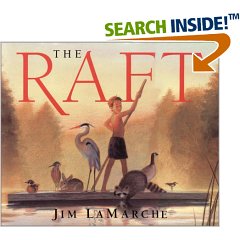 The Raft by Jim LaMarche
Imagine passing a summer drifting up and down a slow-moving river, watching as cranes, turtles, raccoons, otters, and ducks grow accustomed to your presence. Envision days spent poling the raft through lily pads and grasses, glimpsing foxes through the trees on shore. On hot, sticky nights, picture a tent set up on the raft, from which you have an unobstructed view of huge bucks drinking from the moonlit river. Nicky has no idea what he's getting into when his father drops him off for the summer at his grandmother's cottage in the woods. And he's not especially pleased at the prospect. "There's nobody to play with ... She doesn't even have a TV." But this "river rat" is not the normal kind of grandma. Without pushing, she quietly allows Nicky to discover for himself the wonders of river life. Gradually, Nicky's interest in drawing the wildlife he sees brings him closer to his artist grandmother, and to an inner peace that looks as though it will last for a lifetime.
Jim LaMarche draws on his own childhood summer experiences for this lovely, serene story. As the light and weather change through the summer, the river reflects all the beauty of the season. LaMarche has illustrated many remarkable and award-winning picture books, including the magical Little Oh and The Rainbabies. (Ages 4 to 9) (amazon.com reveiw)
Why are we featuring this book?
The Raft is a book featured in Five in a Row, a literature-based unit study curriculum. Many families use FIAR for all but the Grammar / Reading and Math, and others use it in conjunction with other resources. Below you will find information about the author and illustrator, story summaries, and links to lesson plans and websites that are great go-alongs for The Raft. Please note that these resources are meant to complement, not replace, the Five in a Row units. The Five in a Row volumes are inexpensive and well worth the investment.
Looking for a math curriculum that's both fun AND effective?
Teaches concepts with a sense of humor
Access to lessons a grade above & below
Uses technology to overcome math anxiety
Author page
Illustrator Page
The author is also the illustrator.
Go-Alongs:
Online Units and Resources for The Raft
Wisconsin Kids Paper Dolls
This website takes you back into the lives of two of WI residents from 1860's and early 1900's. You can print out your own paper dolls for each child. Great for timelines. (Y M)
TEACH Great Lakes
Features mini-lessons on many Great Lakes topics: environment, history & culture, geography, pollution, and careers & business. Geared for elementary through high school students, the modules are continually expanded and updated and include links to a glossary to help explain scientific terms and acronyms. Explore the Great Lakes at your fingertips! (Y, M, O, T)
Muskrat
The muskrat is found in swamps, marshes, and wetlands from northern North America to the Gulf coast and the Mexican border. Early in the 20th century, muskrats were introduced to northern Eurasia (Baker, 1983). (Y)
Everything Muskrat
Muskrats. Muskrats? Muskrats! Do you want to know something about muskrats? You've come to the right place! Hundreds of links to muskrat-related pages are given in the categories above. Click on one and explore the world of muskrat on the web. (Y)
Photo of Muskrat
Physical characteristics, Habitat, Diet, Reproductive characteristics (Y)
Muskrats
All about Muskrats, along with pictures. (Y)
Wisconsin's Reptiles & Amphibians
(Y)
Mammals of Wisconsin Database
(Y)
Follow that footprint, paw print, hoof print
Wisconsin Department of Natural Resources (Y)
Go-alongs about

All About the United States - Games to make learning more fun. Games for states, capitals and landscapes. (Y, M, O, T)

Go to Egypt with Tapestry of Grace - Learn about how Egyptians lived, worked, and played. Explore their culture, traditions, geographic context, and worldview. (Y, M, O, T)

Life on the Rivers of Asia - National Geographic unit using The Story of Ping (y)

Partnership for the Delaware Estuary - Activity booklets to help kids learn about estuaries. (Y, M)

Photos of the Yangtze River - A collection of varied photos of life on the Yangtze River (Y, M, O, T)
Go-alongs about Animals

EndangeredSpecie.com The Rarest Info Around - EndangeredSpecie.com offers information, links, books, and publications regarding rare and endangered species. (Y, M, O, T)

A Journey of Exploration and Discovery into the World's Animals and the Habitats They Live In - From Todays Teacher.com (Y, M, O, T)

African Savannah: Endangered species - Tutorial for African Savannah's endangered species:lions, Grevy's Zebra, African Wild Dogs and the majestic African Elephant (Y)

Amazon Rainforest Endangered Species - On-line tutorial for Amazon Rainforest endangered species: Golden Lion Tamarins, Three-Toed Sloth, Hyacinth Macaws, Jaguars and Poison Dart Frogs. (Y)

An Edible Aquarium - This is a really fun and inexpensive activity to add to a study on oceanography or amphibians. (Y, M, O, T)

Animal Characteristics Game - Tutorial and game help students learn animal classifications. (Y)

Animal coloring pages - From Enchanted Learning, over 60 animals featured under "A" alone. (Y)

Animal Diet Game - Tutorial and games for learning about omnivores, herbivores and carnivores! (Y)

Animal Habitats - From Utah Education Network. Where an animal lives is called its habitat. Most animals can only live in one or two habitats. This website offers activities as well as resources for many unique animals and their habitats. (Y, M, O, T)

Animal Habitats Resources - From Teacherplanet.com (Y, M, O, T)

Animal Sleuth Worksheet #1 - This is a great worksheet for use with a unit study on animals. (Y, M, O, T)

Animal Sleuth Worksheet #2 - This is the second in a series of great worksheets for use with a unit study on animals. (Y, M, O, T)

ASPCA Kids - Offers kids who love pets information about pet care, careers involving pets, issues about pets in society, cartoons, and activities about pets. (Y, M, O, T)

Australia Themed Coloring Pages - Maps, famous sites, animals and the Australian flag. (Y, M, O, T)

Australian Animals - From the Australian Explorer.com. Photographs of Australian animals. (Y, M, O, T)

Australian Animals A to Z - Grade: K-2, 3-5 (Y)

Biodiversity: Everything Counts! - From Ology - American Museum of Natural History. (Y, M, O, T)

Biomes - Habitats - From Enchanted Learning (Y)

Bird Beaks - Students explore the relationship between a bird's beak and its ability to find food and survive in a given environment. grades 3-5 (Y)

Birmingham Zoo Home School Classes Winter/Spring 2009 - The Birmingham Zoo Education Department has home school science classes for children in 1st-12th grade. They also offer home school art classes and day classes for 2nd-12th grades. (Y, M, O, T)

Butterfly School - From the Butterfly House at the Missouri Botanical Gardens. We raised butterflies one year and the children thoroughly enjoyed it. In addition to step-by-step instructions for raising butterflies, this site has enough background information for a mini unit study. (Y,M)

Center for Veterinary Medicine Kids Page - From the US Drug and Food Administration (Y, M, O, T)

Charlotte's Web - Supplemental unit 3-4 grade students to learn about the relationship between Fern and the animal characters and what is involved in caring for a pet. Grade 3-4. (Y)

Defenders of Wildlife - Defenders of Wildlife is a science-based, wildlife conservation group. (Y, M, O, T)

Dissection Alternatives - From Dissection Alternatives.com This websie provides students with an alternatives to dissecting animals. Many organizations now offer free loan programs through which teachers and students can borrow non-animal alternatives at no charge. (Y, M, O, T)

Earthtrust - From Earthtrust, a wildlife conservation organizations. The website has a lot of information about programs for protecting endangered species, including whales, dolphins, tigers, rhinos, and many others. (Y, M, O, T)

Endangered Species - From the World Wildlife Fund (WWF). Inforamtion in specific endangered species: giant pandas, tigers, endangered whales and dolphins, rhinos, elephants, marine turtles and great apes. (Y, M, O, T)

Endangered Species - Research and Information resources the Educational Technology Center at KSU. (Y, M, O, T)

Endangered species in your state - From the U.S. Fish & Wildlife Service, a listing of endangered species by state. (Y, M, O, T)

Especies Fact Sheet - From Kids Planet (Y, M, O, T)

Exploring Nature Educational Resource - There is a subscriber side and a free nin-member side. Check it out, great resource. (Y, M, O, T)

Fish of the Great Lakes - University of Wisconsin Sea Grant Institutes website. (Y, M, O, T)

Frogs - UW Sea Grant researchers studied the effects of toxins in the environment on local frogs. This website offers kids a chance to understand the research at their level and includes illustrated field guides for Great Lakes frogs, frog activities such as origami frogs and the ability to catch a virtual frog. (Y, M, O, T)

Games for Kids - On line games for kids about animals. (Y)

Games for Kids - I have featured Sheppard Software in past years, but they have added so many resources to the site that I thought it was time to mention it again. I just spend some time playing around and I really love the games. They are relevant and the graphics and fonts are just pleasing. Most of what I played with this time was science (food chain, producers and consumers, photosynthesis) but there are games for social studies, math, vocabulary, and more. This site has grown exponentially since I first featured it years ago. (Y, M)

Great Barrier Reef: Endangered Animals for Kids - On line games for kids to click on animals and answer trivia questions. (Y, M, O, T)

Greet Barrier Reef: Endangered Species - On-line tutorial for great barrier reef animals: Corals, Green Sea Turtles, Humpback Whales and Dugongs. (Y)

Guide to Vet Tech Schools - Interested in working with animals? Find out all about becoming a Veterinarian Technician. Veterinarian Technician programs help students start their careers as veterinarian, teaching them skills and knowledge about animal healthcare technology and delivery. (Y, M, O, T)

Guiding Eyes for the Blind Volunteer Network - Home Socialization provides individuals and families with the opportunity to take home 6-8 week old puppies for several days and socialize the pups to new & different sights & sounds. This program helps the pups become better Guide Dogs. (Y, M, O, T)

Habitat Adventure - Grade 3 Webquest (Y)

Hands-On Science: Butterflies and Bugs - Although this site is geared toward selling caterpillars and other insects (which can be a fun science integration), it also has fact sheets and printables available for free. If you have elementary-aged children and have never raised butterflies, consider doing so. Kids love watching the transformation. (Y)

Homework Help Jr.: Living Things: Animal Habitats - KOL Homework Help Jr. is a listing of educator-reviewed Web sites for kids grades K-2. Animals resources listred here are age-appropriate, provide learning activities, research materials, educational games and multimedia resources about animals and their habitats. (Y)

Homework Helper - From National Geographic. Research for pictures, articles, maps, and more on our top subjects: Animals, History/Culture, Maps/Geography, Places, Science/Nature, and Art/Photo's. (Y, M, O, T)

How a Blue Crab Changes as It Grows - Grades 3-5 (Y)

How to help: Endangered Species - On line tutorial offering six ways to learn about animals, help them and share your ideas with others. (Y)

Just for Kids: Animals - Find out how some animals got their name. Great information for homework help. From the Smithsonian Institute. (Y, M, O, T)

Kids Planet Defenders of Wildlife - Interactive games and "cool stuff" that relates to wildlife conservation. (Y)

Kids' Corner Animals - "Kid's Corner" features a number of unique flash games that teach animal diet, animal classification, endangered animals, etc. (Y)

Mini-Unit Topic: Vertebrates (Animals) - This lesson is designed for fifth-graders. (Y,M)

Neighborhoods: Ecosystems, Biomes, and Habitats - The Franklin Institute: Resources for Science learning (Y, M, O, T)

Nocturnal animals quiz - From Enchanted Learning (Y)

Ocean Friends - Teachers Guides and Lesson Plans - The SeaWorld/Busch Gardens Education Departments offer more than 75 print educational resources for teachers. Information booklets and Teacher's Guides provide animal information and classroom activities. Current listings are for Animal Behavior & Training, Arctic Animals, Endangered Species, Marine Animal Husbandry & Training, Ocean Discovery, Penguins, Saving the Wild, Seals, Sea Lions, Walruses, Sharks, Splash of Math, and Whales. Ages Pre-K through 12th grade. (Y, M, O, T)

OLogy - Ology means "the Study of". (Y M)

Partnerships for Endangered Species Recovery (Poster) - Offers a full size version of an artistic "Recovery Poster" in PDF. (Y, M, O, T)

Phoenix Zoo - (Y, M, O, T)

Plants, Animals, and Ecosystems - From the Environmental Protection Agency. A webpage devoted to helping kids discover the effects of global climate changes on animals and plants. (Y)

Rain Forest - Animals of the Amazon - Free lapbook, notebook & unit resources for homeschoolers from Dynamic 2 Moms. (Y, M, O, T)

Science fair projects: Animal posters and displays - (Y, M, O, T)

Sharks! - Learn all about sharks (Y,M)

State facts - State birds, Animals and Flowers (Y)

The Endangered Species Program - From the Fish and Wildlife Service (Y, M, O, T)

The Food Chain game - Interactive game to create a food chain. (Y)

The Web of Life - The Web of Life is a story told by a common garden spider. (Y)

Toads - Amphibians - Free lapbook, notebook & unit resources for homeschoolers from Dynamic 2 Moms. (Y, M, O, T)

Treehouses on the Tree of Life - Treehouses are Tree of Life pages designed for kids, teachers, and the young at heart. The information found on treehouses complements the scientific core content presented on Tree of Life branch and leaf pages. (Y, M, O, T)

Using Live Insects in Elementary Classrooms - Funded by the National Institutes of Health Science Education Partnership Award. This program combines the use of live insects with math and sciecne activities for kids grades K-3. (T,Y)

What's the Problem - On-line tutorial on the threats that put animals on the endangered species list. (Y)

Wild Games - Defenders of Wildlife - Requires a sound enabled PC [JavaScript] (Y M)

Wild Kingdom Interactive Field Guide - Learn about wildlife through links to videos, episode guides, creature quizzes and activities. (Y, M)

Winter Activities and Lesson Plans - Iditarod - From The Teacher's Corner.net (Y)

Wisconsin's Reptiles & Amphibians - (Y)

World Society for the Protection of Animals - WSPA works with more than 800 member organizations in over 147 countries to raise the standards of animal welfare throughout the world. (Y, M, O, T)