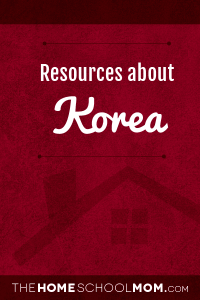 Online Social Studies Lessons
With A Student-Paced Approach
Get history, geography, civics & more
Teaches concepts with a sense of humor
Available to elementary & middle schoolers
Korean for Kids: Learn the Korean Alphabet (Hangul) (Y)
Free Worksheets and stiff for learning Korean.
Korean War Veterans Memorial (Y,M,O,T)
Southeast of the Lincoln Memorial, 19 sculptures stand under the watchful eye of a sea of faces upon a granite wall. This is a reminder of the human cost of defending freedom.
WannaLearn.com - Korean (Y,M,O)

Global Trek - North Korea (M)
Learn about and meet the people of North Korea. Grades 4-8.
Let's Learn about South Korea! (Y)
Welcome! Kids, have fun exploring the culture of South Korea through our puzzles, coloring pages, games and crafts. This area keeps growing every month, so check back often!
South Korea Unit (Y,M)
This is a short unit on South Korea by Terri Johnson of Knowledge Quest.
North Korea and the Korean War (M,O)
From PBS.org
Korean War Veterans Memorial (Y,M,O,T)
from the National Park Service