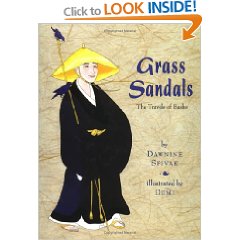 Grass Sandals by Dawnine Spivak
A simple retelling of the travels of seventeenth-century Japanese poet, Basho, across his island homeland. Includes examples of the haiku verses he composed.
Author: Dawnine Spivak
No author page found for Dawnine Spivak.
Illustrator: Demi
No illustrator page found for Demi .
Topics from the book:
Visit each topic page for downloads, lessons, etc. specific to that topic.
Online Units and Resources for Grass Sandals
Make Learning Fun With Online Language Arts Lessons!
Calligraphy Minibook
Gives students an opportunity to try out their calligraphy by making a book of Japanese numbers from one to ten in Kanji.
Haiku and Beyond
A Study of Japanese Literature - by Denver Public Schools. Grade 4
Haiku
Grade Levels: 3 - 6. Students learn the syllable structure and mood of haiku poems by comparing the serenity of the autumn months with the peaceful rhythms of haiku poetry.
A Journey To Japan Through Poetry
Yale-New Haven Teachers Institute. Grade 3
Grass Sandals Spelling Words
Grade 4
Why are we featuring this book?
Grass Sandals is a book featured in Five in a Row, a literature-based unit study curriculum. Many families use FIAR for all but the grammar/reading and math, and others use it in conjunction with other resources. Above is information about the author and illustrator, story summaries, and links to lesson plans and websites that are great go-alongs for Grass Sandals. Please note that these resources are meant to complement, not replace, the Five in a Row units. The Five in a Row volumes are inexpensive and well worth the investment.